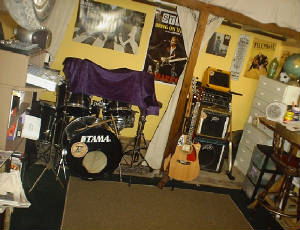 Our Recording Equipment,The Fostex MD 1 a small machine with a strong sound,Gets the work done.Our Keyboards ,Yamaha Sy22 and a Korg DW6000,with the Roland Juno 1.
Tony with a funky style from my days in Denmark..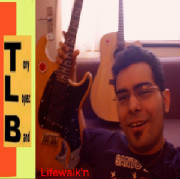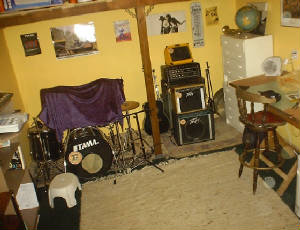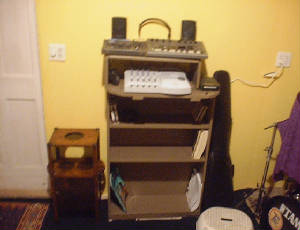 Hey,Hope you enjoy the show,send us an email,and we ll put you on our guest list,for all our latest info,concerts,CDs and shows,enjoy, Cheers
Archives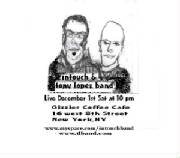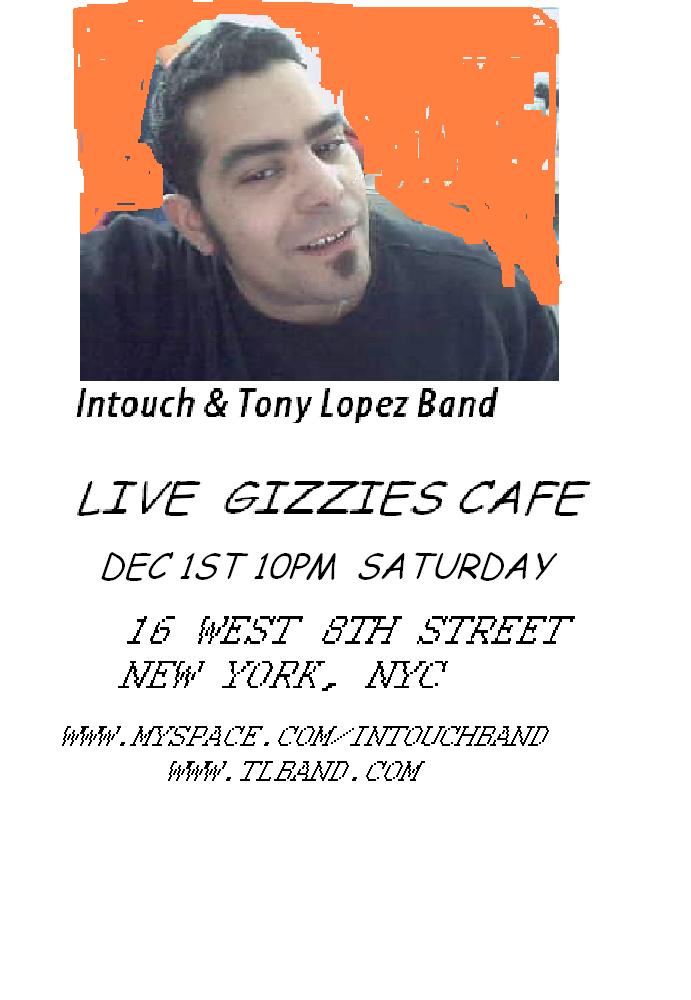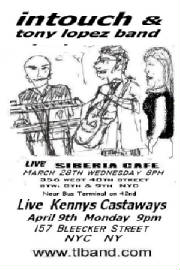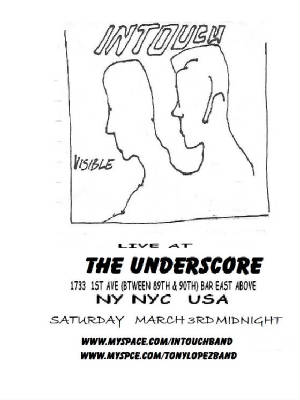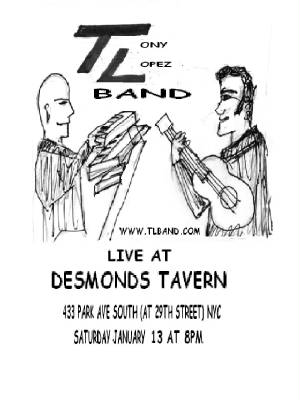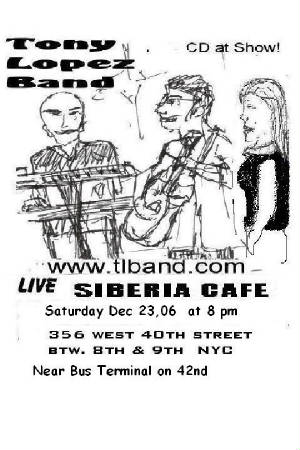 Hey everyone hope to see ya at the show,got some new tunes and our 2nd CD release "Queens Living" Our live CD with the Best of Our 2006 Tour from CBGBS and the Continental. See ya There,CD at show and then on CD Baby afterwards,Cheers,Tony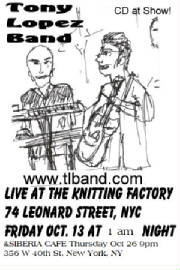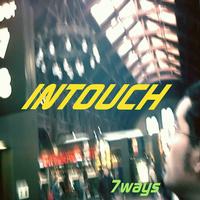 ThankYou !!! CBGBs 313 GALLERY , NEW YORK CITY For a Wonderful Gig Dec 10th
THE FANS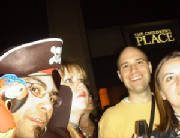 List of Events
Our Friends and family,our fans. We see ourselves as a family band. We are thus trying to create romantic tunes with a folk rock touch. Enjoy the music.!!!
08/18/07 Show at bar 169 was great , thanks, everyone. Keep the faith, keep the music alive, positive y'all,cheers tony
3/3/07 Underscore INTOUCH GIG was great had lots of fun,great show,thanks to all that showed ip. Met DJ laurett and THe slickdicks guitarist invited us to there gigs, Cheers to all. Tony PS see ya wednesday at Sputnik
11/24/06 Live at the Underscore fun gig,good response from all thanks all that showed up.Max,Capri and friends,cheers.New show in Dec at Siberia,also cheers to Craig from Lo Fi. Cheers
10/26/06 Hey Guys and Gals,Had a Great show at the Siberia. Thank you guys,People where dancing,and picked up some of our CDs "Queens Living Live"
Thanks to the People there last night,Cheers Tony ;->
9/1/06 Kennye Castaways,Live Concert,went great we drew in 40 people from the street,quite good for not advertising,the club guy said we didnt draw many ,bologne. Oh well our Fans know the truth, See ya in October,Cheers
7/25/06 The continental Gig was great we are thus very thankful to all that showed up, We are now getting ready for a CD realease party, CDs for free with purchase of the comic book for 2 dollars. Get ready cause here we GO, Cheers,Tony
12/10/05 December 10th ,2005 CBGBS 313 Gig ,was fun and great,Thanks CBs. It was great,once again thanks Michelene. Cheers, Tony
6/12/06 Cbgbs 313 Gigi was a milestone for the band,Our new soungs and new albulm is ready, Albulm called Queens Living, New songs too,Money making man,All for the Queen and Magical night,Great show,getting ready for Continental in July'
9/13/05 Continental Gig,goes great. We are digital and acoustic. Great singing performance by Karina and Tony. Pete on time with keys and drum machines. TL is acousticly on time. Great Soud By Noah at Continental,Cheers:)
10/7/05 Ads in New York Press,Thus practice for our upcoming Gig at CB's313 Gallery!Great,p.s. thanks Michelene,Cheers;)
10/19/05 Conert at CBGBs 313 Gallery. A nice evening with the band and the people. We play new song,pudding pie. Recorded live to add to the CD lifewalk'n. Cheers
9/3/05 Ed leaves the band. Show must go on! Tony and Pete survive as the band. Drum machines introduced,Alesis sr 16 & Alesis HR 16. Should be interesting as the band goes digital and acoustic.
7/26/05 Concert at the continental,rocking time ,Karina & Tony sing,Pete plays the keys and Ed drums. Crowed enjoys our first show in NYC as Tony Lopez Band. Rebooked for the 13th september at The Continental.
5/21/05 Practice at the studio,new recordings,"welocm to the city","All tommorows heros",& Monday morning with karina singing. Getting ready for studio CD.
7/17/05 Practice rehersal for Continental gig, Pete joins the band with keys,Karina with vocals,Tony goes Electric & Ed gets a tamborine.
02/12/05 Practice in studio with Alex worked on new songs,moko chokolata, and voices outside. Recorded live to be on website soon. cheers
01/08/05 Practice Session at the studio Tony,Ed,Alex,&Freinds